Coconut Grove Sailing Club Makes Sailing Easy - Miami, FL
On Wednesdays at the CGSC we make it very easy to sail. The story below pretty much sums up an average evening. However, our sailing club is only half the equation, the Flying Scots are the hook that keeps them coming back. Pictured are 3 of our club "sponsor" boats headed back to the dock up the main channel through the mooring field while flying the spinnaker. While this maneuver is not recommended for the faint of heart, the stability and ease of handling of the Flying Scot makes this possible. On any Wednesday night we will have from 6 to 11 or 12 Flying Scots participating. These boats help our sailing club with our mission " butts on boats on the bay". Our fleet currently has 16 boats including 5 club owned sponsor boats.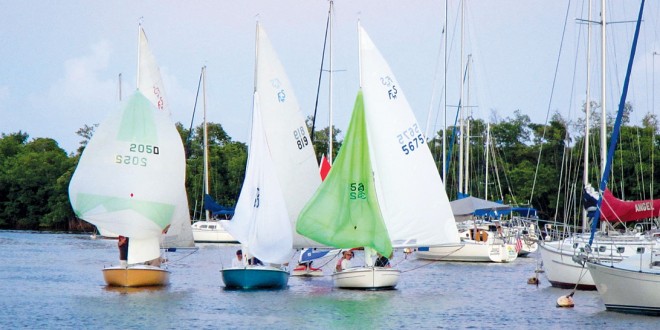 Every Wednesday evening, sailors of any age or experience can turn up and sail CGSC's Flying Scot Fleet. Past commodore Bud Price began the weekly event to encourage more people to try their hand at racing. Here he gives a taste of what to expect.
It was one of those perfect Wednesday nights, with 10 knots of breeze and no sense of temperature - just comfortable. I had couple who were beginning students in my boat that had just finished the 2-day Flying Scot family class. We had 6 boats out. They were very nervous at the first start and neither one wanted to drive the first race.
After the typical negotiating that couples do, Madeline took the helm. Coming down the finishing stretch we were in second place. You could see it in her eyes. She was hooked.
The next race John took the helm. We came in 3rd. It was on! The following race Madeline got another second. Now the pressure was really on. John took a second in the third race and vindicated himself. At the end of the night and five races they were both stuck with smiles on their faces that would not come off. Mission accomplished.
Two more people, who will sail, race and think the Flying Scot is a pretty cool boat. Thanks to the Flying Scot fleet who support this event and the Coconut Grove Sailing club, who's club owned boats provide the platform, we are doing our missionary work and winning converts one Wednesday night at a time.