Visitors Rule at the 2016 Berlin YC Regatta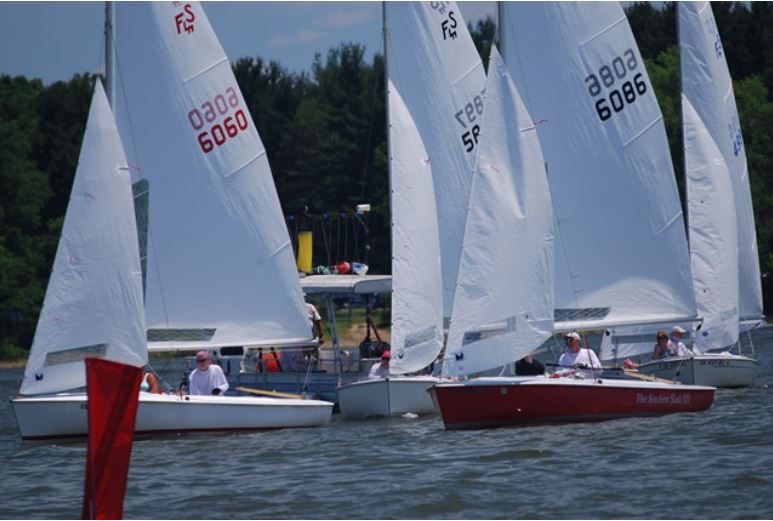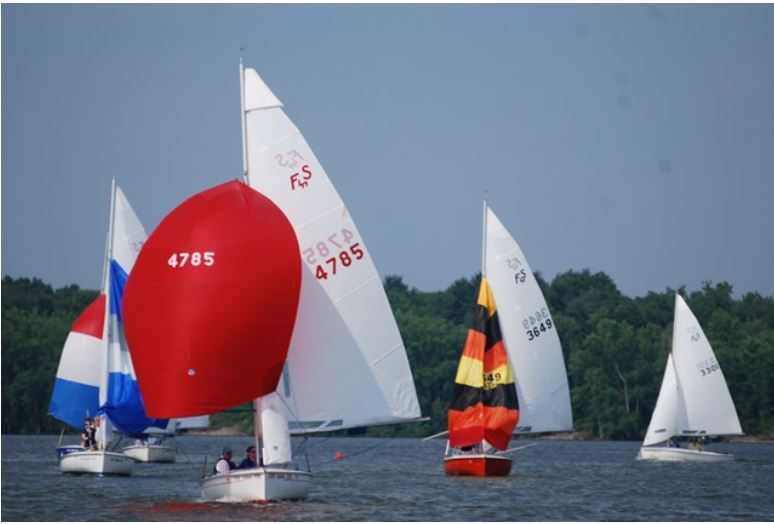 The Berlin Yacht Club Annual Invitational Regatta has been called "a true Sandy Douglass regatta" because it is a multi-class regatta featuring Flying Scots, Thistles, and Highlanders. The regatta is held on Father's Day weekend every year at Berlin Lake near North Benton, Ohio.
This year the BYC Regatta was held on June 18-19, 2016. 16 Flying Scots attended, along with 21 other boats from other classes. Scot sailors traveled from as far away as Chicago, Illinois, to attend the regatta. The Ohio weather was warm and sunny, but winds were light and variable on Saturday. One shortened race was held on Saturday, and all in attendance returned to shore to enjoy a sumptuous appetizer buffet, pulled-pork dinner, and folk music provide by BYC Member Lesa Miller.
Many families, children, and folks of all ages were in attendance to enjoy the festivities. Berlin Yacht Club has been in existence for over 66 years, and participation in the BYC Regatta is an annual tradition for generations of sailors who have grown up at Berlin Yacht Club. Over 80 guests were present for the regatta dinner and festivities on Saturday night. 
The wind returned on Sunday morning to the delight of all sailors present, and three windward-leeward races were held before noon. Winds of between 6 and 8 knots provided great racing action on a relatively short course shared by four classes of boats (Flying Scots, Thistles, Highlanders, and Single-handed boats such as Lasers and Force 5's).
Only one point separated first and second place in the Scot Fleet going into the last race. Scot sailors Ben Williams and Deb Aronson (Clinton Lake Sailing Association) fought hard in the last race and made the right moves on the final beat to finish ahead of second place finishers Bruce Kitchen and his son Nathan Kitchen (Cowan Lake Sailing Assocation).  Third place honors went to Mark and Maria Benner of Moraine Sailing Club, and it was a clean sweep for out-of-town boats at the 66th Annual Berlin Yacht Club Regatta.   Full results are here.