Deep Creek Yacht Club at Turkey Neck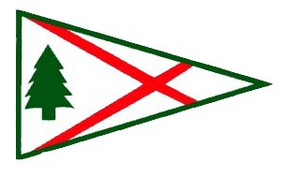 Nestled in the mountains of Western Maryland, Deep Creek Yacht Club at Turkey Neck, Inc. (DCLSA-TN) is the center of most summer activities, where its members enjoy weekend sailboat racing on Deep Creek Lake. Deep Creek Yacht Club welcomes all sailors of any skill level to come out and race.  We run races on weekends and Wednesday evenings June through September, with separate starts for Gold, Silver, Master's, and Challenger fleets in Flying Scots, as well as a start for Lasers.
Directions
The Turkey Neck club is at the south end of the lake on a peninsula. The primary major highway by which you approach Turkey Neck Peninsula is Rt135.  From the west side, you will encounter rt 135  by following US 219 through Oakland where it junctions with rt135 as it (219) turns right (south). Rt 135 continues straight ahead as Maryland Hwy. If you have detoured around Oakland by taking Sand Flat road, You will encounter 135 at a blinking light (the only traffic light on that stretch); turn left. Turkey Neck Road will be on your left (~1-2 mi) at the top of a hill, turn left. The green road sign was knocked down during a snow/ice storm, but from either direction there are yellow signs that warn you are approaching Turkey Neck Road. In about two miles you will see Yacht Club road on the left. Take the turn and the yacht club is ahead on the right. You will see parking on the left & might want to park there temporarily unless the parking attendants (John Clark or Bill Lovett direct you other wise). Charles Graham has volunteered to be the Dock attendant and can also be helpful in directing you to the best option. Robin, Sandy, Marty & I will be in the club signing up skippers & crews. If you haven't encountered anyone else we'll be there.
If you approaching from South or East:
Rt 135 heads north from the north end of Kaiser, WV. After crossing Backbone mountain, 135 takes a sharp left @ a blinking yellow light (this is a light far beyond the one in Luke, MD near the paper mill). In a few hundred yards watch for the yellow road sign warning that Turkey Neck road is coming up. It's a right hand turn.
If you are coming south on rt 495 to the north-east of the lake, you will encounter rt 135 in Swanton, MD. 495 takes a sharp left, you turn right on to 135. In about 6 miles you will see the blinking light referred to in the previous paragraph.