2016 Sandy Douglass Memorial Regatta - Deep Creek, MD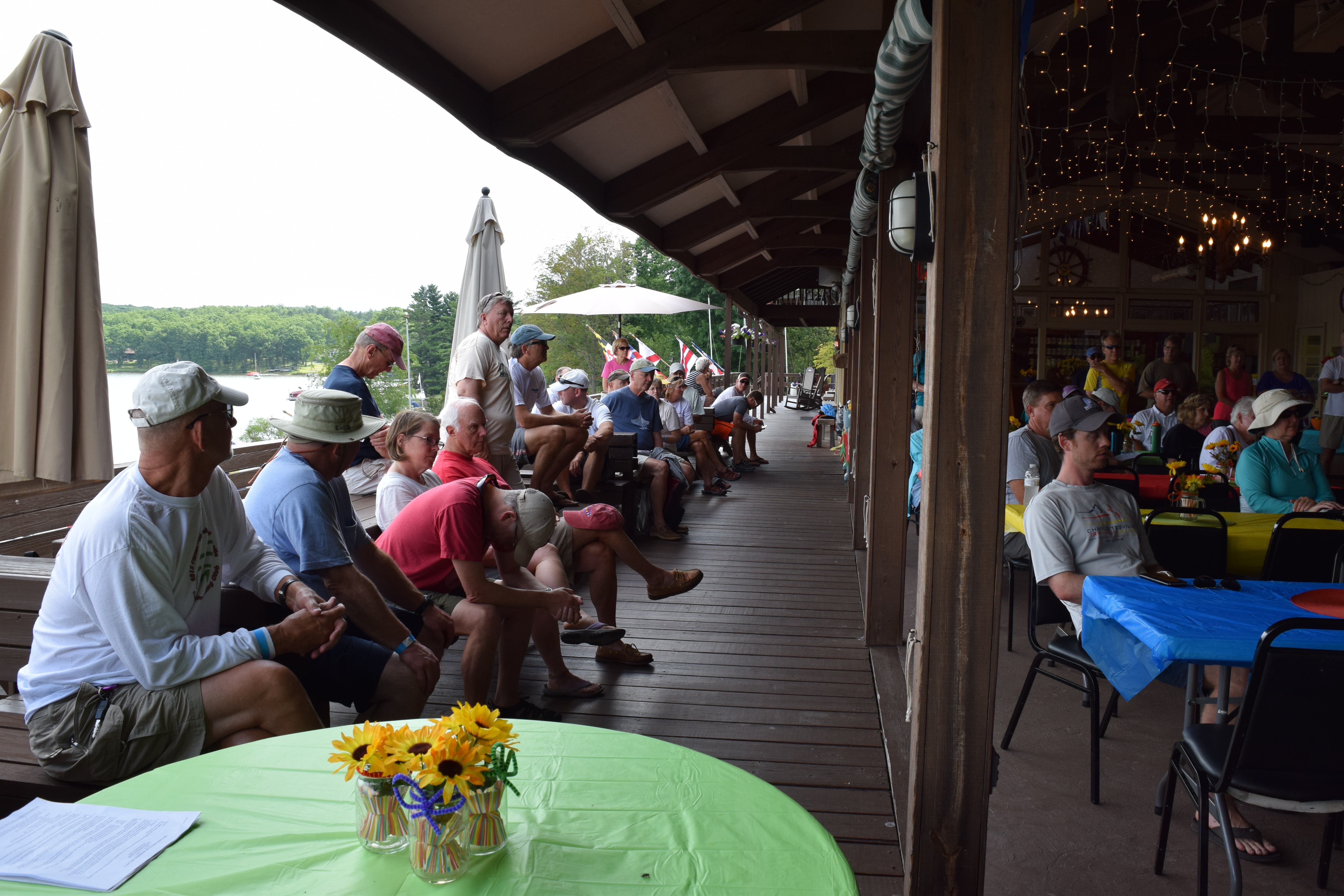 Skippers Meeting - story by Doc Templeton
The 22nd Annual Sandy Douglass Memorial Regatta was held at Deep Creek Lake in Deer Park, Maryland on July 30 and 31.  Deer Park is the home of Flying Scot, Incorporated and, nearby, the two yacht clubs that make up the Deep Creek Yacht Racing Association: Deep Creek Lake Sailing Association (DCLSA) and Deep Creek Yacht Club, Inc. (DCYC).  This memorial regatta is an annual tribute to Sandy Douglass, the designer and first builder of the Flying Scot.  This is the only regular regatta here in Western Maryland in which boats are invited to attend from off the lake.  In addition to Flying Scots from these two yacht clubs were out-of-towners from neighboring states.
The racing weekend, hosted by Doc and Judy Templeton, kicked off with a Burrito Bash party on Friday night with entertainment by DCLSA club member Joan Coraor.  This event gave visiting sailors a chance to get acquainted with the DCLSA Club layout as well as the local sailors from both Clubs.  Everyone enjoyed the beautiful decorations and great food.
Saturday morning began with a hosted breakfast and skippers' meeting prior to the first race.  There was a total of 43 boats divided into four classes: Gold, Silver, Masters and Challengers.  There were eight boats from off the lake.
The Principle Race Officer (PRO) for this regatta was Bruce Spinnenweber. The signal boat was manned by Quoc Tran and John Mandryk, the chase boats were run by Ed and Judy Wetzel and by Jack Faulkner and family. This experienced and skilled team did a great job.
The forecast for Saturday was not propitious; light wind with a good chance for a thunderstorm in the afternoon. The storm held off for the first race, however, and we had about 4 – 12 knots southwest winds. The second race on Saturday proved much more challenging when a squall suddenly appeared.  Very high winds during the downwind spinnaker run caused two capsizes and much panic.  In the Challenger (beginner racer) Fleet, Flying Scot #14 was racing in her first regatta in her 60-year history of pleasure sailing.  Her skipper, Anthony Celo, capsized and had to quit. The worst part was that the next day he lost his crew and was grounded. Eric Von Eckartberg also capsized but he was able to get back up without assistance.  This turned out to be the final race of the day and with two races in the books, we called it a day and began preparing for Sunday.
Saturday night featured a Vice Commodore's Dinner hosted by Susan Henry, the Vice Commodore for DCLSA.  Entertainment featured the King Street Band which was very popular with all attendees.  Eating, dancing and drinking continued through the evening and a great time was had by all.
On Sunday winds were again southwest at about 3 – 8 knots and, at times, quite variable in direction; for example, on the second downwind leg all the Flying Scots were close-hauled for a while.  This is a typical feature of Deep Creek Lake or any mountain lake – wind shifts come from nowhere and the sailors who win are the ones who can quickly read the changes and respond appropriately.
Following the Sunday racing, an awards ceremony was held - results are here.