2015 Scots on the Rocks Regatta - Lake Murray Sailing Club, SC
Fleet 158 was pleased to host its 11th annual "Scots on the Rocks" Flying Scot regatta the weekend of September 5th and 6th – 2015.  Eighteen competitors, including one in the Youth Division, came to play in two days of moderate temperatures and spectacular sailing conditions.  
Day one saw fairly consistent breezes averaging around 7 to 8 knots with enough gusts, lulls and oscillations to keep everyone on their toes.  "Winds were generally out of the northeast with occasional north tossed in to keep our race committee engaged.  Early forecasts of "T" storms kept the committee boat closer to shore with fairly short courses, but none of the bad stuff materialized.  We had three great races and a hungry crowd swarming the club to do justice to cocktails and great Southern pulled pork BBQ from Farm Boys, our local go to guys for such delicacies.
Day two was better!!!  At the 0930 warning signal, winds were pretty steady out of the northeast averaging around 11 knots with plenty of gusts between 15 t0 17 or so.  No threats, so our race management crew set up in open water with some nice long legs to help us shake out the morning cobwebs.  Sailors who spotted the headers and tacked to pick up the lifts early really stretched out to early leads.  Discipline had to be maintained, however, when the headers were in during the lulls.  The patient ones kept moving in the "soft" spots and went for the pressure waves marching down the lake.
Bottom line, good sailing over two days was extraordinary fun for everyone.  Trading tacks and picking up the occasional "sleigh ride" in the heavier downwind puffs put grins on everyone's faces.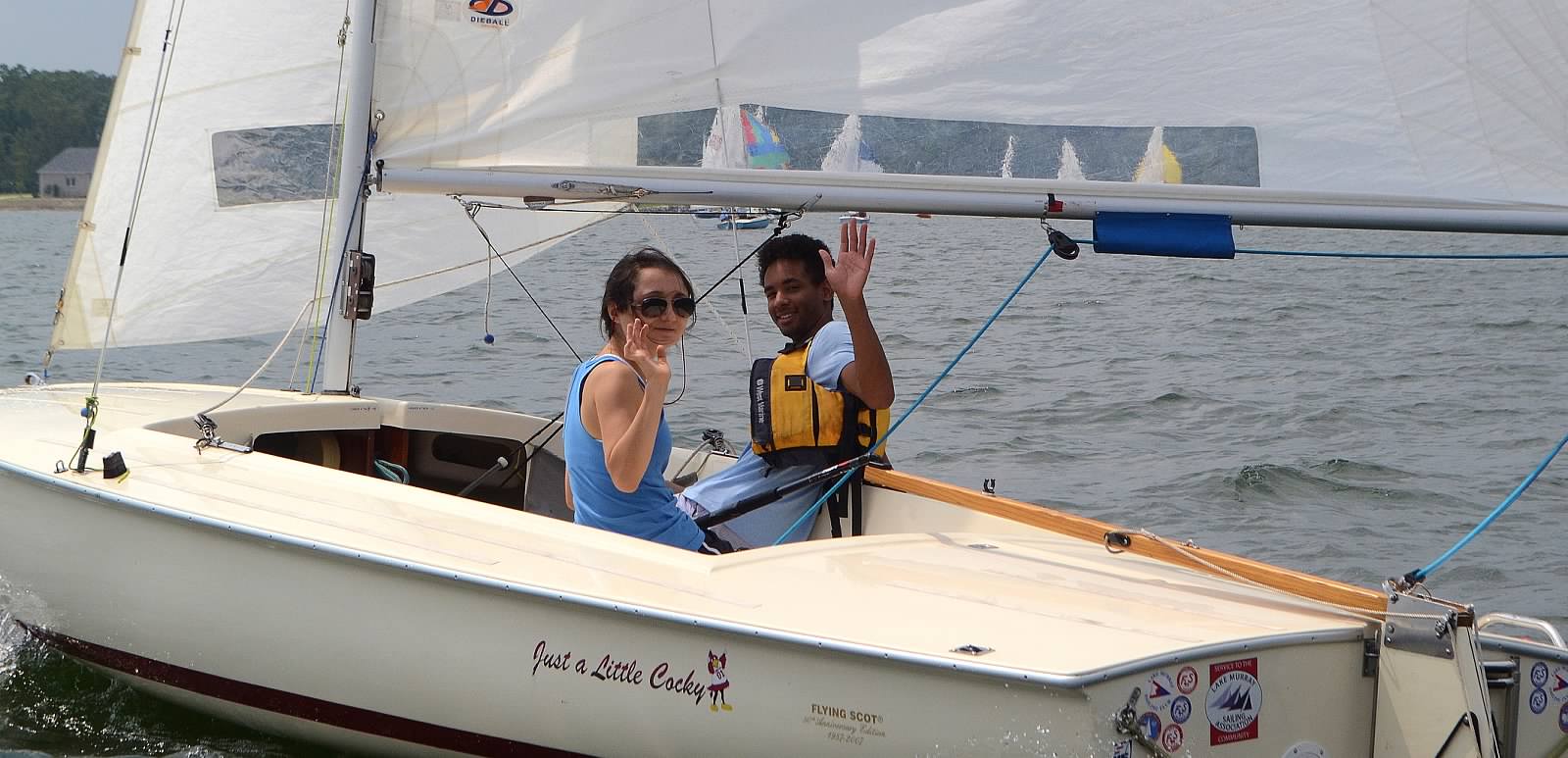 First place boat skippered by John Kreidler                            Youth Team
Fleet 158 is going to form a "Wind Committee" to organize the same conditions for 2016, so get ready to sail the Scots on the Rocks again in 2016!    Final results are here.  Lots of pictures here.