2016 Pacific Districts - Sequim Bay Yacht Club, WA
Full results are here.
When you think of great sports dynasties the Boston Celtics, Chicago Bulls, Pittsburg Steelers, and New York Yankees immediately come to mind.  In the Flying Scot Pacific District, Brian Tyrell has had his own dynasty winning the last 8 Pacific District titles.  This year that streak finally ended when Dale Dunning and Eric Taylor, aboard 4372 Trouble Maker, captured the title in a hard fought and dramatic battle that wasn't decided until the eighth and final race. 
The Sequim Bay Yacht Club was the host of this year's 2-day regatta on August 27th and 28th which featured both Thistles and Flying Scots.  Sailors were greeted with ideal conditions on Saturday with sun and steady winds ranging from 10 to 15 knots.
After five physically exhausting races on Saturday, sailors retreated to the SBYC clubroom for beers, burgers, and dogs.  At the end of the day Tyrell and crew member Valerie Bucholtz, aboard 5472, were in first place by two points over Dunning and Taylor on 4372 Trouble Maker with Ray Peters and Mark Bowden on 4887 close behind in third.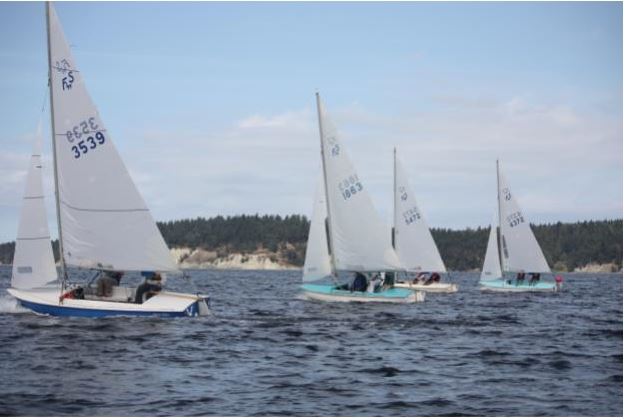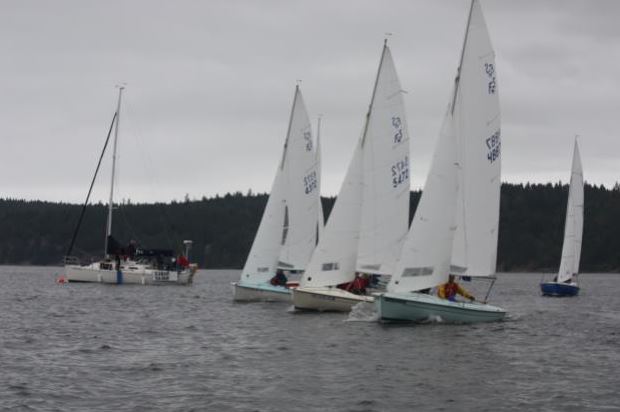 Saturday Racing                                                                            Final Sunday Race
Sunday conditions changed dramatically as the lower level marine clouds moved in and winds dropped to a range from barely negligible up to 6 knots.  The SBYC race committee worked diligently and was able to piece together three good races.
In the first two races Dunning jumped out with excellent starts and managed two firsts to put himself into first place by one point over Tyrell. This lead to the dramatic final race where a new champion was crowned. 
In the eighth and final race Dunning, on 4372, started just to windward of Tyrell on 5472.  In the course of a couple of minutes Dunning was able to overtake Tyrell.  It was at this point that Brian Tyrell, the champion sailor, reached into his bag of tricks and pulled out a perfect "fake" tack.  Dunning took the bait in order to maintain a close cover and suddenly the blanket was gone and Tyrell had a clear path.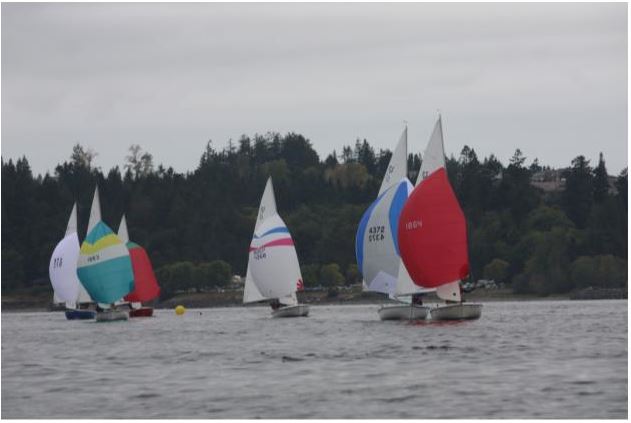 Race 8. 4372 Trouble Maker on the last reach right before the pounce (5472 using their back up spinnaker
As all the boats tacked onto port, the wind began to clock to the left.  Dunning on Trouble Maker was on the outside of the lift and could do nothing but watch and wait as all of the inside boats including Tyrell were lifted inside of him.  At this moment it looked like Tyrell was once again going to retain his title.  All Dunning could do was sail fast and hope to be close at the windward mark.
At the windward mark Ray Peters on 4887 had a commanding lead followed by Ken Nelson and Wanda Hadda in 4368.  Tyrell was right on their tail and, in fourth, was Dunning about 4 boats back.  The next leg was a reaching leg with a jibe mark.  Tyrell took little time working around Nelson and putting a boat and a much needed point between him and Dunning.  The pressure was on Dunning to work past Nelson and preserve at least a tie.   
Three quarters down the leg Dunning was able to work past Nelson which put him several boat lengths back of Tyrell who still held a 2 ½ boat lead at the Jibe mark.  Now the goal for Dunning was to get close enough to hopefully get a split and find a lane to pass on the final windward leg. 
But fate works in mysterious ways and the boat Trouble Maker, which had been fast all weekend didn't disappoint in this last race.  The 2 ½ boat lead dissipated into a few feet and then, at one opportune moment, Dunning and Taylor on Trouble Maker pounced and the response by Tyrell was too late.  Suddenly in one brief flash Dunning was above and on Tyrell's wind and at that moment, both sailors knew it was over. The Pacific District had a new champion.
The Sequim Bay Regatta never disappoints and always throws in a few surprises.  This year was no exception.  All of the sailors were grateful for the work the SBYC did to put together this year's regatta and, regardless of their finishing place, old friendships were renewed, new friendships were made, and perhaps a new rivalry in the likes of the Celtics and Lakers was born!