2015 ACC at Blackbeard Yacht Club, New Bern, NC - Squalls!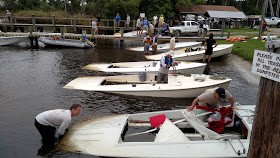 Info from Deb Aronson and Joe Brake, photo by Mike Funk
Ben and I decided at the last minute to drive to New Bern, NC, for the Atlantic Coast Championships. We had always wanted to participate in that event, one of only four national events the FSSA sanctions. Plus, we've always wanted to sail at Blackbeard, since it is near Ben's parents' home.
As you can imagine, it's a long drive. Total drive time was at least 14 hours. We pulled in Friday night and had a nice dinner with Ben's parents. This morning we were up with the birds and headed to the club to rig our boat. We were happy to catch up with several North Carolina sailors we know, including Joe Brake, Dave Safirstein, Joe Price, Charlie Buckner and several others, not to mention Rob Whittemore and John Wake from Maryland.
After the race committee meeting, Ben and I headed out. It felt strangely familiar to sail here, even though we'd only ever been on these waters with Ben's parents' motorboat. Winds were predicted out of the southwest at about 13. A gust line showed up when Ben looked this morning, but nothing to get too worried about. In fact, before the race began, the wind seemed to come down quite a bit.
Things changed after that. By the time the first race started (a four-leg race with a downwind finish), winds had picked up a bit and it looked like we had a good day of sailing ahead of us. And the first three legs were great. The fleet was really competitive, and we counted 22 boats on the line. Ben and I had a crummy start when a boat tacked right at the pin on top of us. We tacked and footed across the fleet to try to get clear air. That seemed to work okay and we were probably about 8th around the first mark. We managed to catch a few boats and lose a few boats the next couple legs. The sky off to the north started to look ominous, but we thought it would scoot by us. Unfortunately, Blackbeard had his revenge.
Just about the time Ben and I finished and dropped our chute, all hell broke lose. Even though we knew we were getting some more wind, we thought with the spinnaker down we'd be fine. Wrong! Someone said someone on the race committee boat clocked the winds at 50 mph. We thought we could outrun it, but we miscalculated and were just overpowered. Over we went. Next came storm and winds like we've never been in. We mostly just took cover on the lee side of the boat, but twice the wind picked up our mast, righted our boat and over we went the other way. Finally we were able to get our sails down, the winds and rain let up and we were able to take stock.
We were lucky. We only broke a boom. I am not exaggerating when I tell you I saw nine dismasted boats get towed in. Based on a very informal survey, I think three of the 22 boats managed to stay upright. Carnage, baby!!
Having said that, however, no one was injured. Everyone chipped in and helped everyone else. The support boats were fantastic, very experienced and extremely helpful. And I just have to give a shout out to Joe Brake, who organized a fantastic event. You can't control for Mother Nature!!!
With the amount of damage, it was decided to end the event today. Ben and I went out to dinner with his parents. We'll pack up the boat tomorrow and start our journey home.
Smooth sailing all!!
More from Deb - Ben and I visited with his parents and then headed to the club to pack up. We heard a few more details. That the RC clocked the winds at just under 60 KNOTS; that 10 boats damaged their masts; that 13 motor boats went out to help. Thirteen!! That is just magnificent. Before the storm, there were six on the water and another seven went out immediately to help. And, by my count, four boats stayed upright: Joe Brake, Dave Neff, Joe Price and Jim Leggett. Other peoples' description of the storm matched what Ben remembered seeing. That there was only a little yellow dot on the radar and then, without warning, a big purple blog. Purple!! Apparently, someone on one of the boats was taking photos and gave them to Joe. Maybe once Joe recovers a bit he'll post some. I'd kind of like to see those photos. Does that make me a sicko?! Also, it is kind of weird that we've had two experiences like this this season (the other was in Indy when we lost our mast) and Ben's gone his entire sailing career never getting hit by a microburst. I'm going to try very very hard not to obsesses about this but just get back in the boat and sail again. Thank goodness no one got too badly hurt. Joe decided not to award trophies, but to cancel the event. Given the extent of the damage and the fact that the race wasn't over (though a few had finished) when the storm hit, that makes a lot of sense. The club, Blackbeard, was lovely, by the way. I'd love to go back! I'll post photos when and if I get them. Signing off, continuing the drive home.
More from Joe Brake - Flying Scot ACCs cancelled due to a 60kt microburst that hit the fleet of 23 boats 45 minutes into the first race Saturday. A very scary moment during and after the blast that capsized 20 of the 23 boats. Thank God and the powers that be that everyone was accounted for and no one seriously hurt. There were 13 chase boats rescuing people out of the water and recovering the swamped boats. Over 7 masts were bent or broken and lots of other valuable gear was either broken or missing...but no one died and everyone was safe at the end of the day. Mostly everyone was wearing a PFD and the response to the disaster was immediate. I plan to write more later as I decompress. I know this event was a bonding experience for us all that challenged all of us to survive. I love my Flying Scot Family!